Fully serviced fishing trips in Amsterdam
My name is Juul and I look forward to be your fishing guide in Amsterdam. This is not only the zander capital of the world, but also home of marvelous stocks of perch and pike. I look forward to taking you to the best spots for these predatory fish and create everlasting memories. I offer guided fishing tours all year round, except for the closed season in April and May. I love to share my knowledge of the water with you – I live on a houseboat and practically think like a fish – and use my experience to get the best results possible.
Fishing techniques
I offer a wide variety of techniques, from vertical jigging and casting soft baits for zander and perch to trolling for monster pike, and everything in between. Just share your thoughts with me, and I will provide a tailor-made fishing trip that suits your needs. No matter what technique we use, the wellbeing of the fish we catch is of paramount importance. This means that we handle each fish with care and practice catch and release at all times.
Fully serviced fishing trips in Amsterdam
On a typical fishing day we go out 8 hours (and if my schedule permits it's no problem to add some more time – I know that 'a last cast' is never the real last cast). You don't have to bring anything; everything is provided: lunch, coffee, soft drinks, and on request I can bring a rain suit for you. If you don't have a fishing license, I can arrange this for 10 extra euro charge. If your time is limited, we can also go fishing for a half-day (4 hours minimum).
Only the best tackle is good enough
When it comes to fishing gear I, as your fishing guide in Amsterdam, do not compromise. Since I'm not tied to any brand in particular I can choose whatever I think is best for the purpose. This means that you will be fishing with high end St. Croix spinning and baitcasting rods (Premier, Legend Tournament and Legend Elite series), all rigged with high-end Shimano Vanford spinning reels and Shimano Tranx baitcasting reels. I drive a 16'7 ft Starweld aluminium fishing boat with a 50 HP Yamaha four-stroke engine and a 80 lb Minn Kota Riptide Ulterra trolling motor. The boat is fast and super stable to ensure the best comfort possible. To find the fish, I rely on a 12″ Garmin Echomap Ultra 122 SV fishfinder with Livescope. So no guessing, but only targeting fish where we can actually see them.
Discover other great fishing destinations with UFX
I'm a proud member of UFX, a collective of fishing guides in The Netherlands with only one goal: deliver the Ultimate Fishing Experience. Our UFX fishing guides are spread all over the Netherlands: from the Biesbosch in the South till Friesland in the North and from Amsterdam in the West till Nijmegen in the East. By booking a fishing trip with UFX, you are ensured to get the best quality and service possible.
Photo & Video Gallery
Click here to see all photos and videos
Juul Steyn – Fishing Guide Amsterdam
About me
My name is Juul Steyn, and I live as close to the fish as possible: on a houseboat moored in Amsterdam. Sportfishing has been my profession for over 20 years. I started as an editor for the Dutch fishing magazine Beet and later became chief editor of 'Hét Visblad', with over 500.000 copies the largest fishing magazine in The Netherlands. In 2010 I started guiding in Amsterdam, a job that allowed me to combine the two things that I love most: fishing and sharing the fun of fishing with other people.
Fishing guide and author
I do this not only by offering fully serviced fishing trips in Amsterdam. In 2020 I have made a dream come true: writing a book called 'Denken als een vis' ('Think like a fish'). This is not only about catching more and bigger predatory fish, but also about the background of sport fishing. From the first man that started fishing over 100.000 years ago to the fanatic fishermen that we are today – and beyond. At this time the book is in Dutch only, but if an English translation becomes available, I will keep you posted!
Officially licensed by the AHV
As a licensed fishing guide of the Amsterdam Fishing Club (AHV) I have only one goal: putting my guests in the first place. This means that all fish that are hooked are destined to be caught by the guest. The last thing you want is to be 'out fished' by your guide (something I have experienced myself on more guided fishing trips than I like to admit). My sole purpose is to help you to get the most out of a fishing day possible. I do this by showing you the right techniques, offering the right tackle and above all and making sure you enjoy yourself.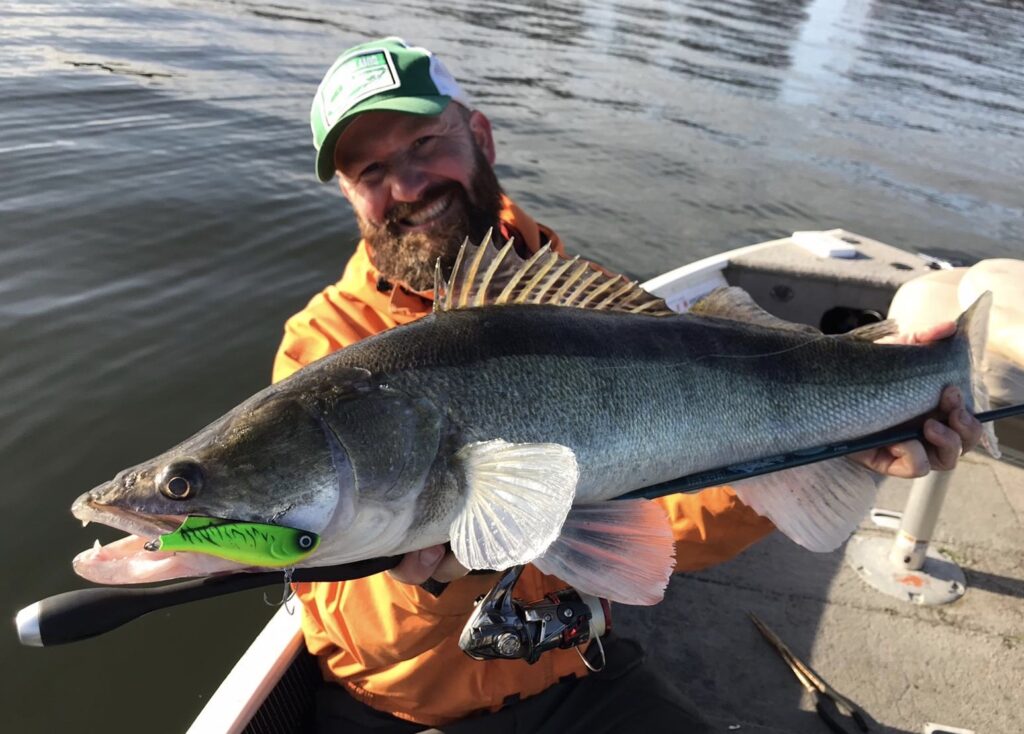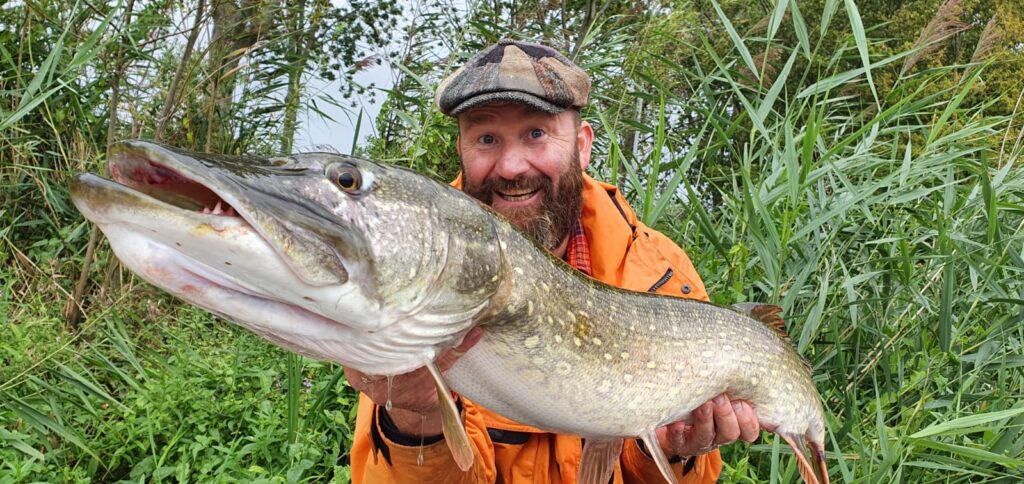 Fishing in and around Amsterdam
Services and rates
Full day fishing in Amsterdam (8 hours)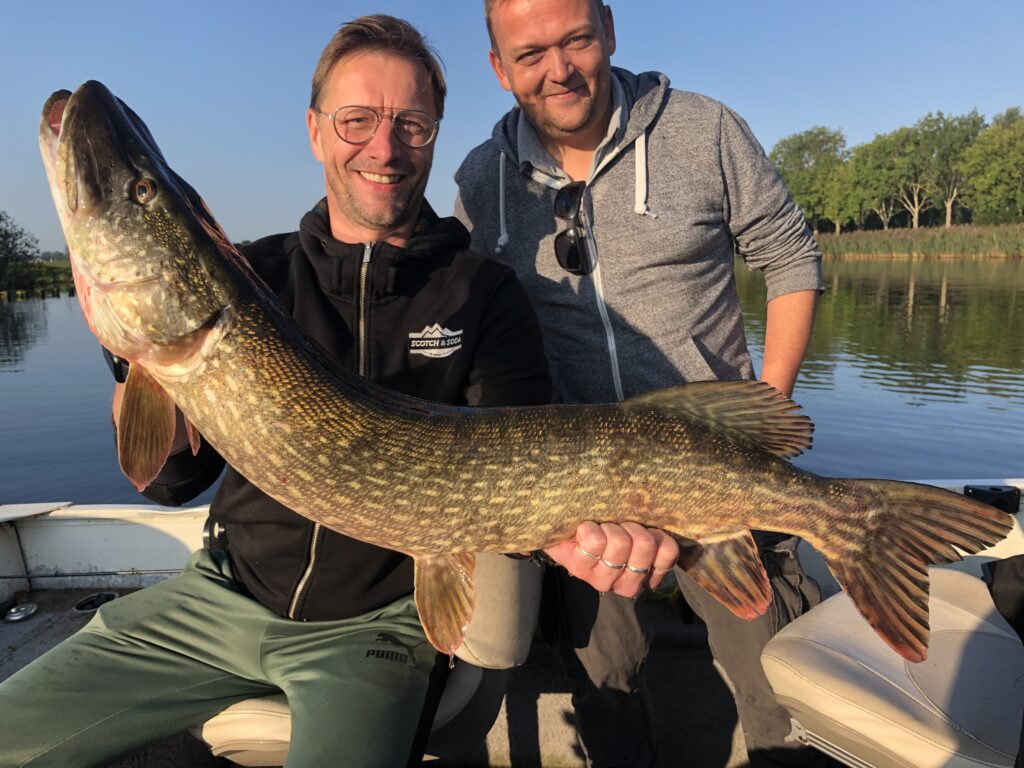 If you want to get the best out of your day, we recommend booking a fully serviced fishing trip. You will be fishing for at least 8 hours, and everything is provided: lunch, coffee, soft drinks, tackle and all the fishing gear you can possibly need. If you don't have a fishing license (VISpas) I can provide a 3-day fishing license for only 10 euro per person.
For a full day fishing for one or two persons during week days I charge 400 euro, and for three persons it's 450 euro. During weekend there is an extra charge of 25 euro. For the best fishing experience, I recommend to book for one or two persons.
Usually, we start at 8 AM, but I'm open for an earlier or later time to kick off if time permits.
Half-day fishing in Amsterdam (4 hours)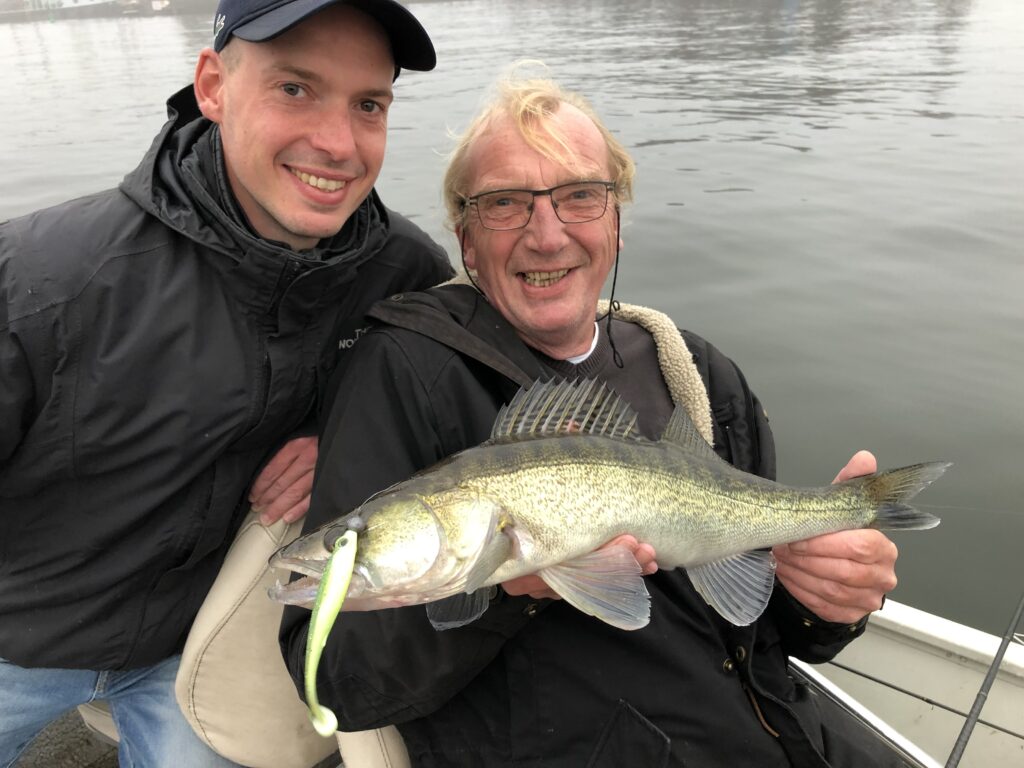 From Monday till Friday you can choose to go out for a half-day fishing. During 4 hours, you will experience a true power package of hardcore fishing. Especially if you decide to go out early in the morning or later in the evening you will be amazed about how much fun you can have during a short fishing trip. These are the times when the fish is most active in general.
For half-day fishing for one or two persons during week days the rate is 300 euro, and for three persons it's 325 euro. During weekends there is an extra charge of 25 euro.
Usually, we start at 8 AM, but I'm open for an earlier or later time to kick off if time permits. Please consider a night trip, starting before sunset. This way you can experience the thrill of night fishing for zander: super exciting!
Usually, we depart from our houseboat in Amsterdam East, but on request, I can also pick you up at a location of your choice. Just get in touch with me so we can discuss what works best for both of us.
Amsterdam – Zander capital of the world
SPECIES AND TECHNIQUES
Zander – The Sniper
Perch – the street fighter
Pike – the bully
Zander – The Sniper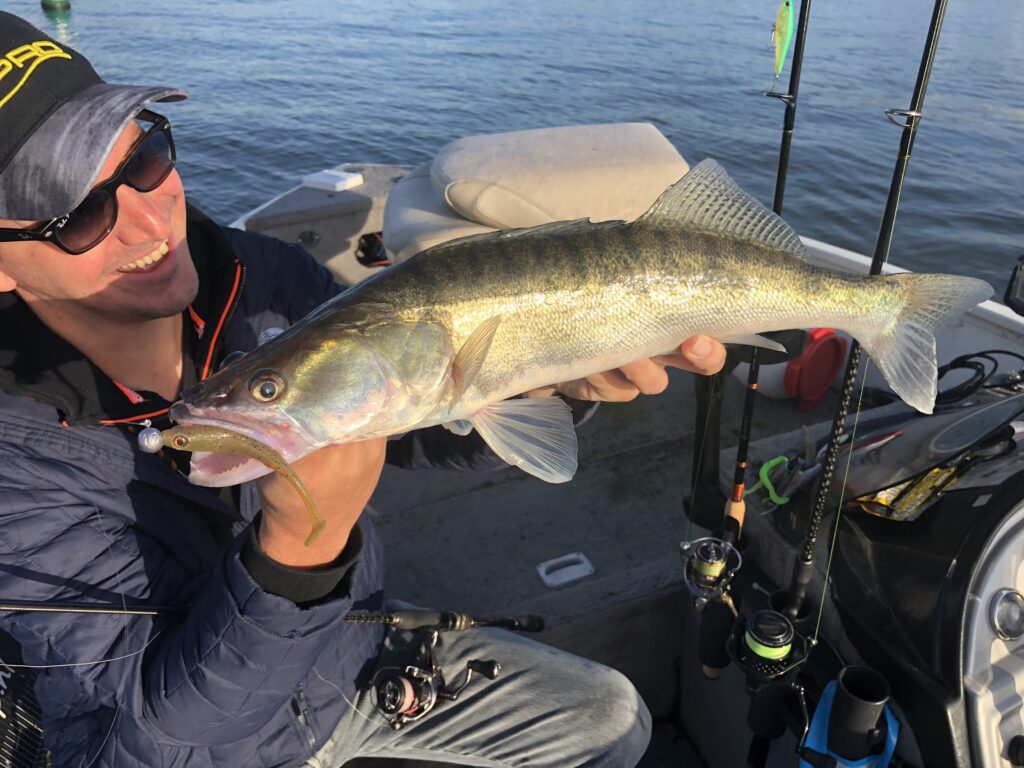 Zander – The Sniper
With eyes that are extremely sensitive to light, the zander roams the deep and dark waters of the river IJ and the murky canals on the old city centre. This sniper sneaks up to her prey and waits for the right moment to attack. She bites like a viper and kills like a sniper. Not only her behaviour makes the zander (also called pike-perch) one of the most wanted predator fish in Amsterdam, but also the numbers and size account for this. A fish of 40 cm already puts up an entertaining fight, with 60 cm it gets really serious, and an 80 cm fish is a fish of a lifetime. And not impossible to catch during a fishing day in Amsterdam!
Traditionally vertical jigging with short and fast rods is an efficient way of fishing for zander, as well as drop shot fishing. Both techniques are done with soft baits sizing 6 – 12 cm. Another great way of fishing is casting with both soft and hard baits, from small soft baits on a light jig head to chatterbaits and twitchbaits. This is a more active way of fishing, the bites are usually harder, and in my opinion, every fish you catch is even more rewarding. In consultation we can also go trolling for zander in the inner city, using deep-diving slim hard baits and rattle lures. While doing so, you may also expect large perch and pike.
Perch – the street fighter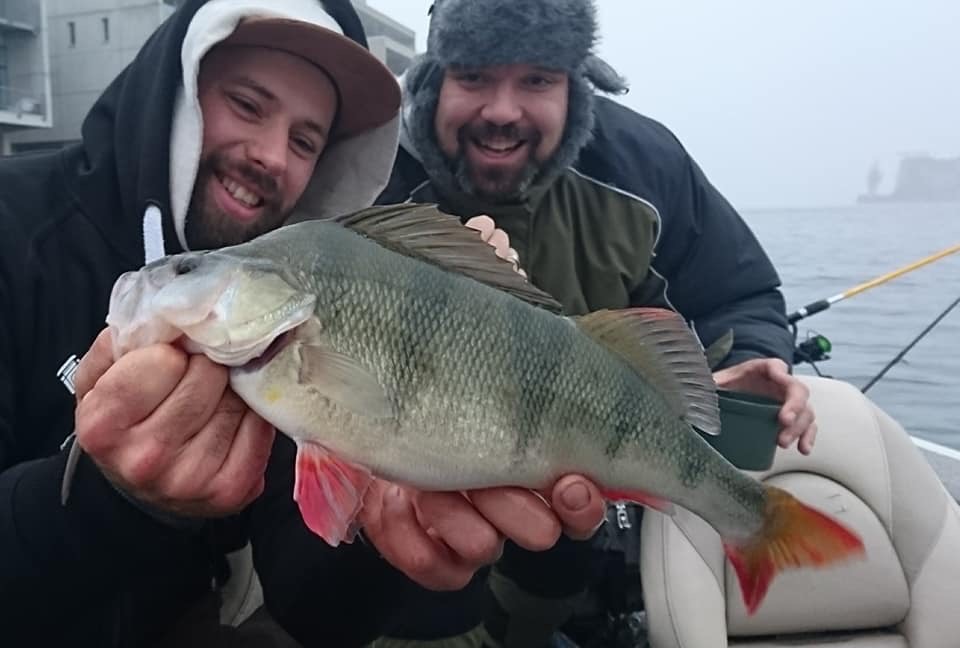 Perch – The Street Fighter
If there is one fish that's always looking for trouble, it's the perch. This fish is abundant in Amsterdam waters and gives a silver lining to every day out on the water. His wonderful appearance is deceiving because he's a real ugly streetfighter that may attack baits that are about the same size as himself. Fish of 20 to 30 cm are fun to catch, a 40 cm fish is a trophy, and with 50 cm you may call yourself the winner of the day!
Perch are caught often while vertical jigging and dropshotting, but casting with hard and soft lures can be at least as effective. And if you are in for some serious finesse fishing with the Carolina rig and Ned rig for perch, I love to show you the ropes. Trolling with small hard baits along the river bank, as well as through the canals of the inner city, is also very productive.
Pike – the bully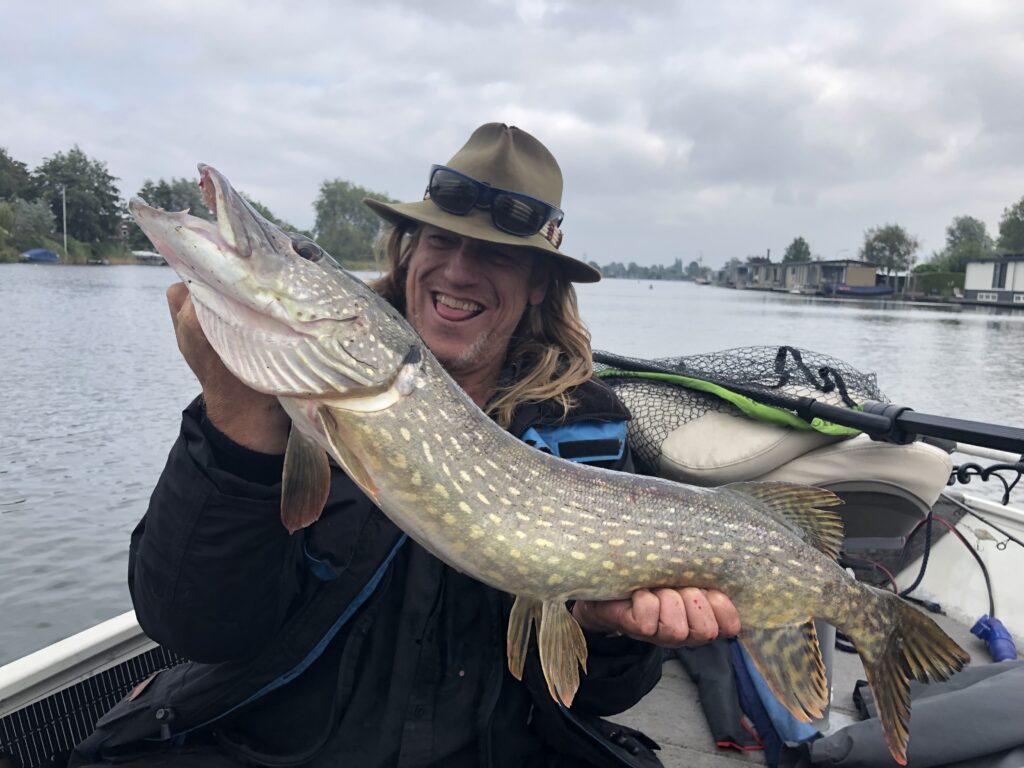 Pike – The Bully
Without a doubt, the most impressive fish around. With her sheer size and massive jaws filled with razor-sharp teeth, she roams the Amsterdam waters. Although she's less abundant than her smaller counterparts, she makes up for this by her power and appearance. During the right season (September – March) we frequently catch fish over 100 cm, weighing over 20 lb. If you want to give it a go for monster pike, I recommend booking a full day fishing to enhance your chances of success.
Casting large spinnerbaits, swimbaits, hard and soft baits (20 – 30 cm) is one of my favourite ways to target large pike. If you are made of the right stuff, you can also choose to go trolling with XXL soft baits. And I mean massive stuff: big fat ladies prefer big fat plastics measuring 30 up to even 45 cm. No guts, no glory!
Fishing boat & tackle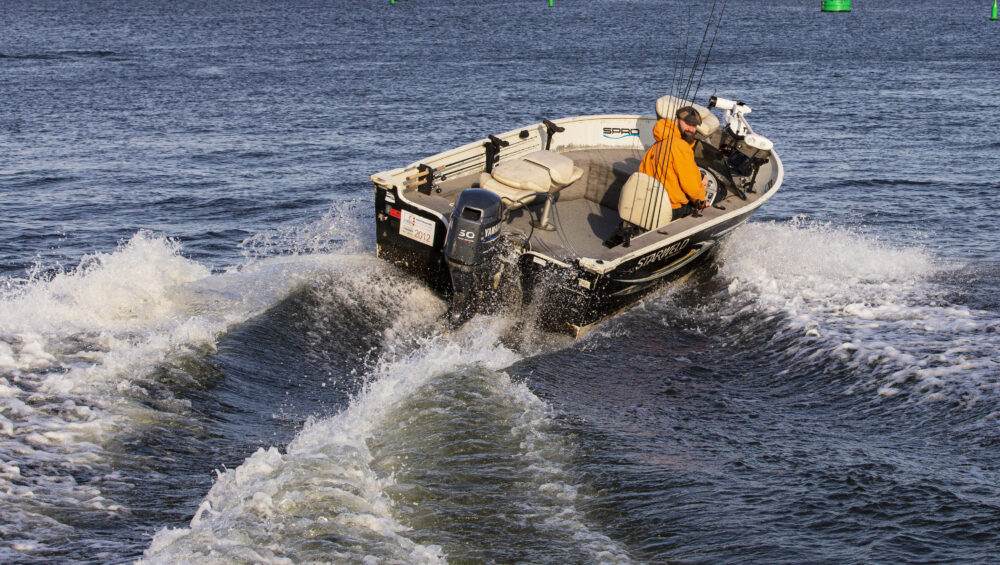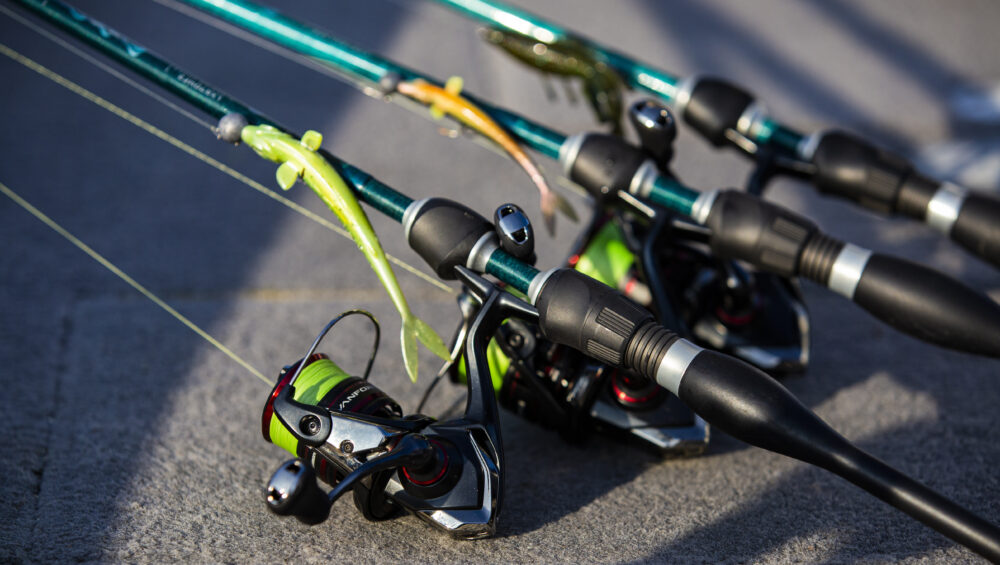 You will be enjoying a vast amount of fishing space aboard the aluminium 16,7 ft Starweld boat. Stand or sit on the large front deck to target your next fish in the most comfortable way possible. There are lots of rod holders aboard to position your rods the best possible way. The Garming Echomap Ultra 122 SV enables me to find the exact location where I can find the fish. And the amazing Garmin Livescope is the perfect tool to target individual fish. Using this technology is not only very productive, but an experience in itself. The fishing boat is powered by a super reliable and quiet 50 HP Yamaha 4-stroke outboard engine and an Minn Kota Ulterra 80 LB trolling motor.
I believe that the right rod and reel are of paramount importance. They not only enable you to reel in your catch but also to get you in touch with the fish in the first place. This requires sensitivity, strength and fast response. Therefore I rely on a wide range of St Croix Legend Elite and Legend Tournament rods for casting soft baits when fishing for zander and perch. These rods are equipped with the high-end Shimano Stradic spinning reels, spooled with 10 lb 8-strand Shimano Kairiki braided line.
For casting and trolling large baits to catch pike, I offer the light and tough 7 ft St. Croix Legend Premier Musky rods. These rods are equipped with top-notch Shimano Tranx baitcasting reels for maximum control over even the biggest mama you may hook.
Spro is another brand I rely on, not in the least because of the hard- and softbaits specifically designed for the fishing techniques I love most. Stuff like the Instaworm, V-power and Aruku Shad: I just could not do without and I love to show you why.
Book a Fishing Trip
If you wish to book a full or half-day fishing trip. Please contact me by email on juulsteyn@gmail.com
Our B&B in Amsterdam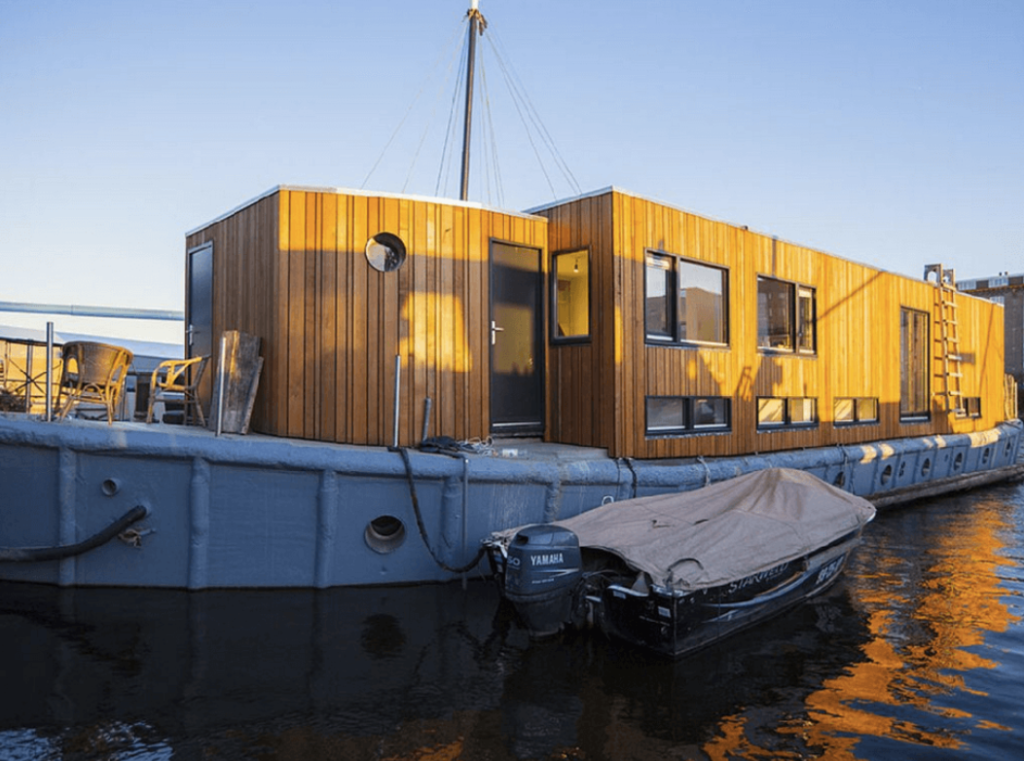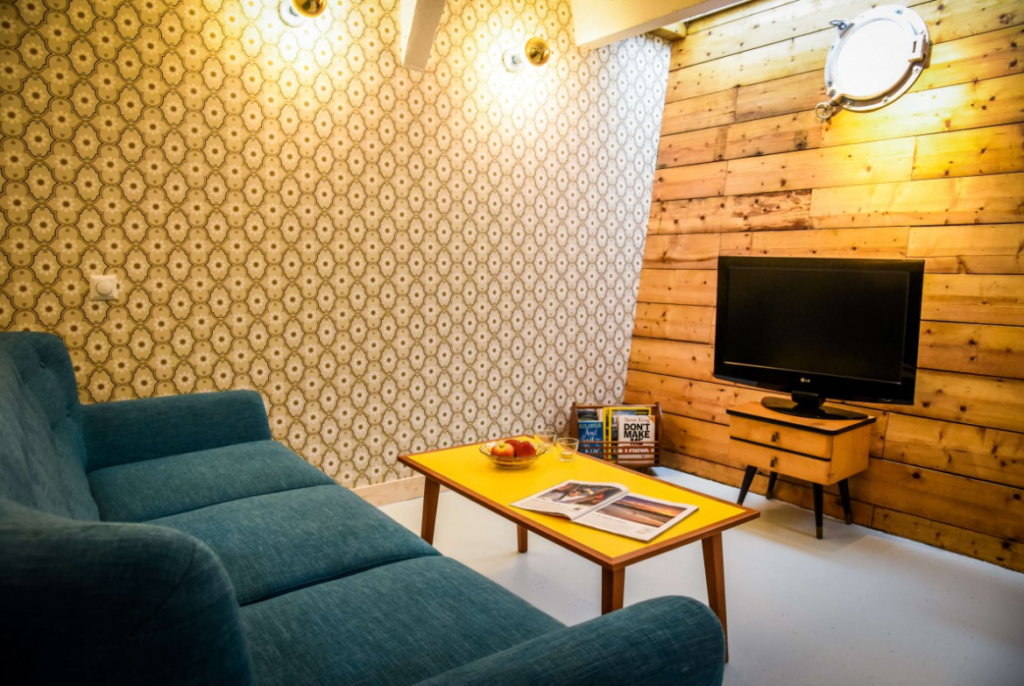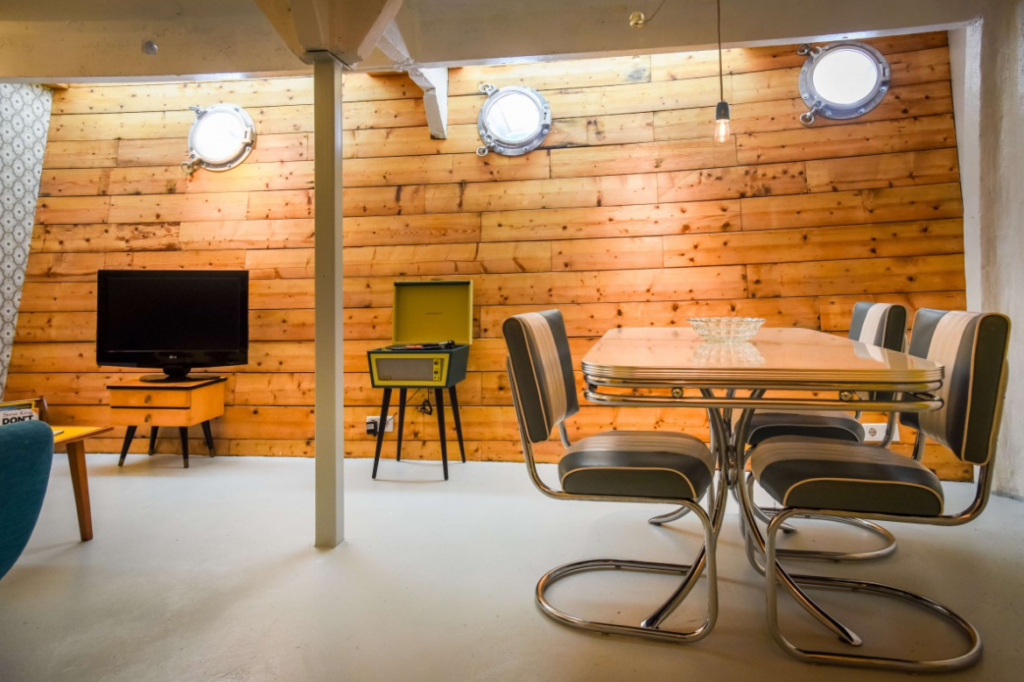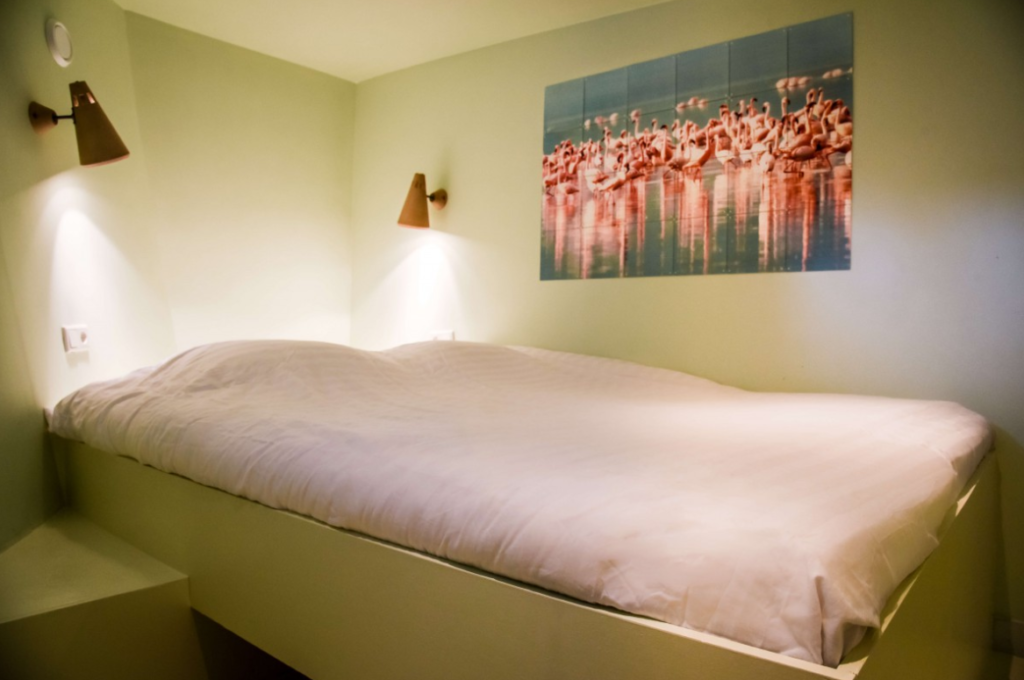 Make your fishing experience unforgettable by staying in our wonderful B&B aboard our houseboat. This place is decorated in a cool 50's theme and offers a master bedroom with double bed, a bedroom with two bunk beds, a spacious living room, a kitchenette and a comfortable bathroom with shower, sink and toilet.
For each fishing day that you book, we offer a 50% discount on the regular night rate. For further details and more pictures, please check  our Book a Houseboat page.
Once we have agreed on the date and number of fishing days, I will adjust the discounted price so you can make the booking through that website.
Note that we are moored in one of the best street fishing areas in Amsterdam, so you can fish 24/7 if you have the stamina to do so.
2 Bedrooms
Sleeps 4
From € 95 per night
News & Articles